Who is the girl behind Backpacking Bananas YouTube Channel
Who is backpacking Bananas
Backpacking bananas is a youtube channel that has become famous due to its discussion about backpacking. The girl behind the channel, her information, social media, and career have been the concerns at present for her followers. This article will explain who she is and the information you would like to know.
Christiane biography
Christiane Alice Risman is the person behind the backpacking banana youtube channel. She was born on September 30, 1993. She is from Chertsey and was raised in Woking by her parents. Natasha and Maria are her sisters who have helped Christiane with most of the things. For the 28 years, old English Youtuber has not mentioned much about her parents, and we will bring them to you as soon as we know.
Christiane attended The Sixth Form College Farnborough. However, the Youtuber did not go to University as she realized it was not in her demands for a better future. She has revealed that her school was the very first place where she learned videography and various presenting techniques.
At present, she is a solo traveler who travels all around the world. When looking at Christie's recent activities, she has visited her sisters and is meeting their family members in Australia. She has been doing this for 08 years, and she started it in 2014 after she said bye to her school.
She says she has traveled in 43 countries worldwide and has a collection of thousands of photos. Her zodiac sign is Libra. Christie is not married or dating someone at present. After looking at her social media and YouTube, it is clear that she has always been a solo traveler.
Family and relationships
As we can see, the close relationship Christie keeps is with her sisters, Natasha and Maria. She appears in images with those two, and we still don't see Christie belonging with her parents. Recently, Christie posted an image of her sister, Natasha's newly born child stating, "Special thanks to Natasha for making it happen with creating a beautiful baby."
According to records, she has not dated anyone either. The relationship Christie currently maintains is with her travel companions. Although she is traveling alone, Christie meets hundreds of people on the way. Other than the sponsors influencing matters, Christie is not maintaining long-lasting relationships.
Career
The only career Christie has chosen is Youtubing with Vlogging. In addition, she has recently started influencing and affiliate marketing through her social media accounts. She doesn't have specific academic skills to be used for vlogging but the experience she got for 08 years.
Backpacking bananas net worth 2022
The backpacking bananas net worth is about 1.5M USD. The main way of bringing income to her is Youtubing. At the moment this article is written, Christie has got 169k subscribers to her channel, and she has been able to get a considerable income through that. Other than that, she does influence through her social media accounts to have an additional income.
Branding, sponsoring, and affiliate marketing have been her other ways of generating income. In 2019, Christie started her practical clothing line as "Solo," and she has an income from that as well. However, Christie doesn't have her own website. Soon, she will create one and increase her net worth along with mots products under her branding.
Social media
Christiane is on Youtube, Facebook, Instagram, and Twitter. She has been most popular on Instagram, with 45.5k followers. Facebook and Twitter have been her partially used Social media accounts along with fewer followers than Instagram.
FAQs
Who is Christiane Riesman's boyfriend or husband?
Currently, Christiane is single, which means she doesn't have a boyfriend or husband.
How old is Christiane Risman from Backpacking bananas YouTube channel?
Christiane Risman is 28 years old now. She will turn 29 this September.
How tall are Backpacking Bananas?
Backpacking Bananas or Christiane Risman is 5 ft 10 inches tall.
also read: Meet Alex and Emma from Travel Beans YouTube channel
Family of Nomads Age, Net Worth & Latest News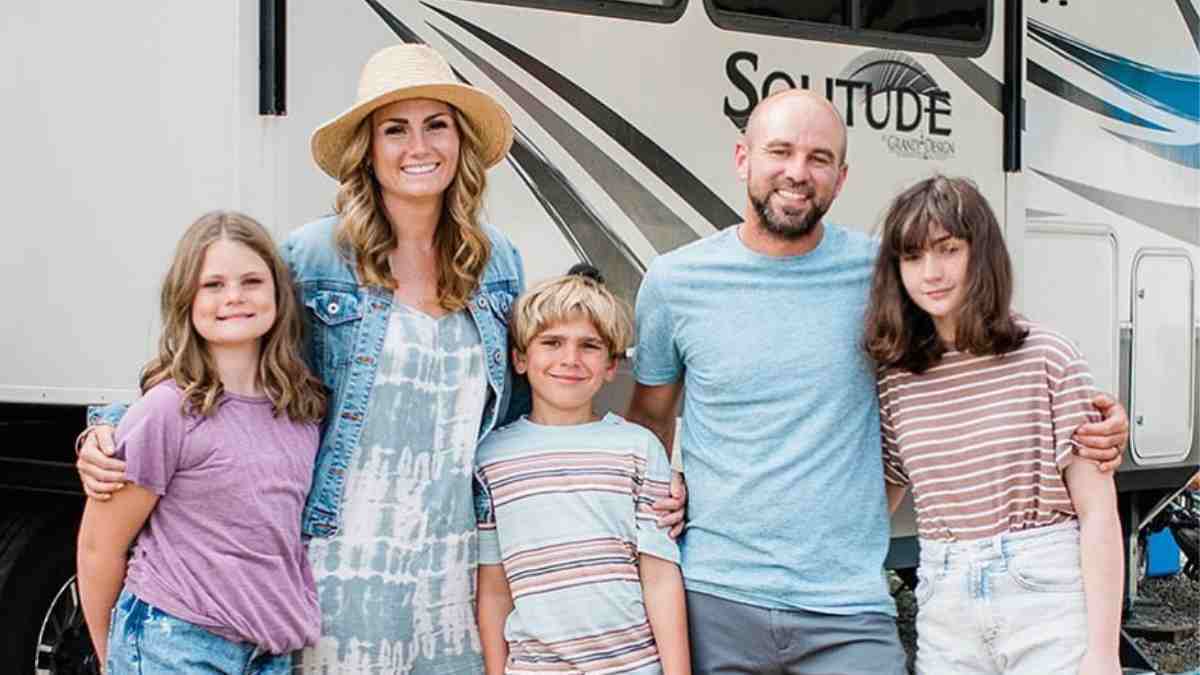 Family of Nomads is an average family living in an RV and has been nomads since September 2020. The Family of Nomad's mother and father, Jessica and Dub McCorkle, has three kids, Addison, Grace, and TJ. After their oldest daughter, Addison, recovered from a severe five-year-long illness, they decided to become full-time Nomad. The Family of Nomads Jessica and Dub's net worth has yet to be revealed, but their YouTube channel is worth around 76,000 USD as of 2023.
We are an average family, living an extraordinary life. After our oldest daughter was sick for 5 years, we knew we needed a change. We decided to sell our house and hit the road to a live a life of adventure and travel.

family of nomads
Why did Dub & Jessica decide to be nomads?
Being a nomad with three kids is not an easy decision for any parent. According to their official website, the Family of Nomads' oldest daughter, Addison, suffered for five years from PANS (Pediatric Autoimmune Neuropsychiatric Syndrom). Addison's doctor told them she was in remission after five years of being very sick.
Then they realized that the path they were with busy schedules was a waste. So they want to enjoy and live their lives because life is short entirely. That is why they decided to be full-time nomads and enjoy the rest of their life with kids.
One thing we have learned from Addison being sick for so long is that life is short, and we are not promised tomorrow. Stop waiting for this crazy stage of life to end and live your life now.

family of nomads
They started it by selling 90% of their belongings, buying a fifth wheel camper, and becoming nomads. Now they share their experiences to inspire others who want to be nomads. 
Family of Nomads members
Jessica and Dub married on December 20, 2019. Before they married, they had been dating since September 2017. Their age or birthday is not available in the public domain yet. But Jessica once posted on Instagram that her elder daughter Addison was born when she was 20. Now Addison is 15 years old, and we can confirm that Jessica is 35 as of January 2023. Dub McCorkle will be in his late thirties, but it needs to be confirmed.
| | |
| --- | --- |
| Jessica | 35 years old |
| Dub McCorkle | Not yet revealed |
| Addison | 15 Years old. Born on January 12, 2008. |
| Grace | 12 Years old. Born on March 30, 2011. |
| TJ | 11 years old. Born on March 13, 2013. |
Family of Nomads age and birthdays
How much is Family of Nomads net worth in 2023?
Dub and Jessica mainly earn their income from their YouTube channel revenue, blog site revenue, affiliate some brands on their social media profiles, amazon.com, and shopltl.com. But as we mentioned above, their net worth is not revealed yet.
Social media profiles
also read: Sin City Outdoors Family, Net Worth & Latest Facts