Who is the girl behind Backpacking Bananas YouTube Channel
Who is backpacking Bananas
Backpacking bananas is a youtube channel that has become famous due to its discussion about backpacking. The girl behind the channel, her information, social media, and career have been the concerns at present for her followers. This article will explain who she is and the information you would like to know.
Christiane biography
Christiane Alice Risman is the person behind the backpacking banana youtube channel. She was born on September 30, 1993. She is from Chertsey and was raised in Woking by her parents. Natasha and Maria are her sisters who have helped Christiane with most of the things. For the 28 years, old English Youtuber has not mentioned much about her parents, and we will bring them to you as soon as we know.
Christiane attended The Sixth Form College Farnborough. However, the Youtuber did not go to University as she realized it was not in her demands for a better future. She has revealed that her school was the very first place where she learned videography and various presenting techniques.
At present, she is a solo traveler who travels all around the world. When looking at Christie's recent activities, she has visited her sisters and is meeting their family members in Australia. She has been doing this for 08 years, and she started it in 2014 after she said bye to her school.
She says she has traveled in 43 countries worldwide and has a collection of thousands of photos. Her zodiac sign is Libra. Christie is not married or dating someone at present. After looking at her social media and YouTube, it is clear that she has always been a solo traveler.
Family and relationships
As we can see, the close relationship Christie keeps is with her sisters, Natasha and Maria. She appears in images with those two, and we still don't see Christie belonging with her parents. Recently, Christie posted an image of her sister, Natasha's newly born child stating, "Special thanks to Natasha for making it happen with creating a beautiful baby."
According to records, she has not dated anyone either. The relationship Christie currently maintains is with her travel companions. Although she is traveling alone, Christie meets hundreds of people on the way. Other than the sponsors influencing matters, Christie is not maintaining long-lasting relationships.
Career
The only career Christie has chosen is Youtubing with Vlogging. In addition, she has recently started influencing and affiliate marketing through her social media accounts. She doesn't have specific academic skills to be used for vlogging but the experience she got for 08 years.
Backpacking bananas net worth 2022
The backpacking bananas net worth is about 1.5M USD. The main way of bringing income to her is Youtubing. At the moment this article is written, Christie has got 169k subscribers to her channel, and she has been able to get a considerable income through that. Other than that, she does influence through her social media accounts to have an additional income.
Branding, sponsoring, and affiliate marketing have been her other ways of generating income. In 2019, Christie started her practical clothing line as "Solo," and she has an income from that as well. However, Christie doesn't have her own website. Soon, she will create one and increase her net worth along with mots products under her branding.
Social media
Christiane is on Youtube, Facebook, Instagram, and Twitter. She has been most popular on Instagram, with 45.5k followers. Facebook and Twitter have been her partially used Social media accounts along with fewer followers than Instagram.
FAQs
Who is Christiane Riesman's boyfriend or husband?
Currently, Christiane is single, which means she doesn't have a boyfriend or husband.
How old is Christiane Risman from Backpacking bananas YouTube channel?
Christiane Risman is 28 years old now. She will turn 29 this September.
How tall are Backpacking Bananas?
Backpacking Bananas or Christiane Risman is 5 ft 10 inches tall.
also read: Meet Alex and Emma from Travel Beans YouTube channel
Leanne and Dan Net Worth, Biography | The Couple Behind The Buddymoon YouTube Channel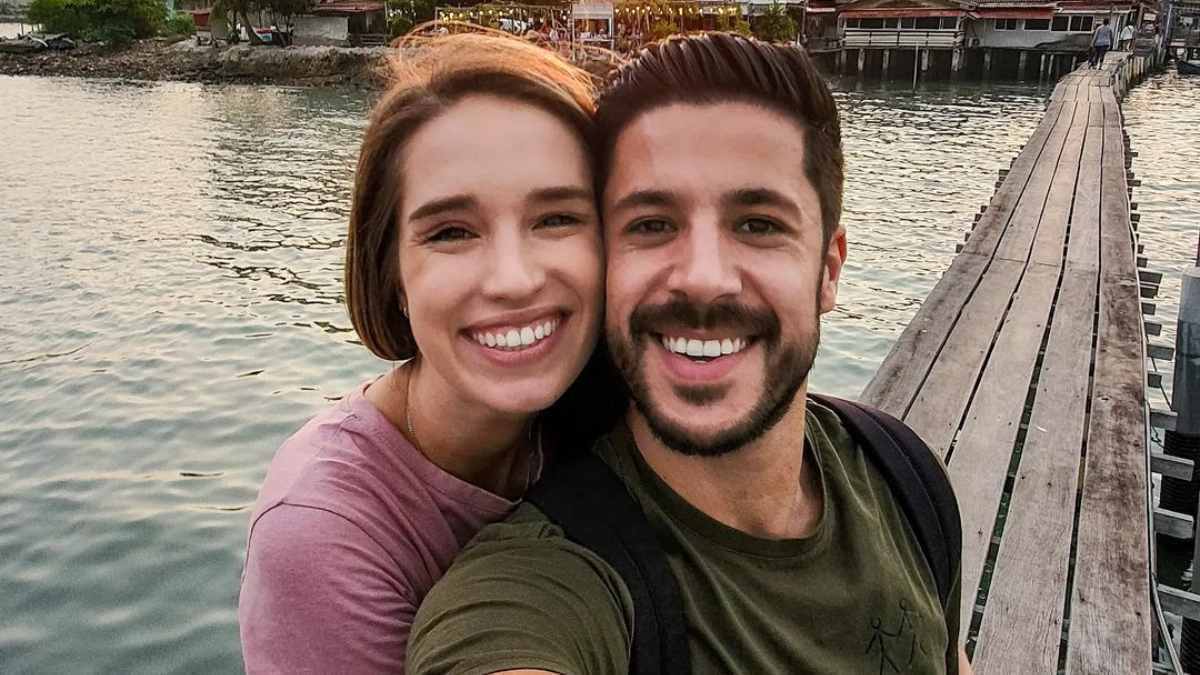 The Buddymoon YouTube channel is a goldmine of travel inspiration. With over 360,000 subscribers, their content revolves around exploring the world, one exciting location at a time. From hidden gems to iconic landmarks, their videos will have you itching to pack your bags and hit the road. The Buddymoon has an estimated net worth of $4,630 as of September, 2023.
Leanne and Dan are the creative minds and adventure seekers behind The Buddymoon. They firmly believe that the best adventures are shared with friends – that means you, their beloved buddies!
We're Leanne and Dan, a South African couple travelling the world in search of the best experiences for your next adventure. Our goal during our travels is to search for the best experiences and destinations, deep-diving into cultures and stepping out of our comfort zone, in hope that these experiences could be the inspiration for your next travel adventure. Whether you are looking for a Buddymoon, Adventuremoon, Minimoon, Honeymoon, Babymoon (you name it) we will have the best recommendations for you.

LeaNNE aND DAN
Leanne and Dan Net Worth
Leanne and Dan's earnings come from various places. Their biggest income sources are the views on their YouTube channel and the ads that play in their videos. They also make money by selling their cool stuff on their official website. They're part of some affiliate programs that help them earn some extra cash. Plus, they get support from folks on Patreon.com. So, they've got a few different ways to make that dough!
As for the Buddymoon YouTube channel, it's estimated to be worth around $4,630 as of September 25, 2023. But when it comes to Leanne and Dan's personal net worth, well, that's still a bit of a mystery. They haven't spilled the beans on that one just yet!
Age and Personal Life
Image source: Instagram
Leanne
Leanne Michelle De Lira, born on September 13, 1993, in sunny Johannesburg, South Africa. She is 30 years old as of September 2023. Before the YouTube stardom, Leanne pursued her studies at the University of Pretoria and the University of the Witwatersrand. But here's the twist – before hitting the "record" button, she embarked on a journey in the marketing field, all the way from the dazzling city of Dubai.
Leanne began her romantic journey with Dan back in 2015, and their love story reached its pinnacle with a beautiful wedding ceremony in March 2021.
Dan
Daniel (DAN), born on July 14, 1991, in the charming town of Hartbeespoort, South Africa. Dan is 32 years old as of September 2023.
Before the world knew him as a content creator, Daniel's roots were firmly planted in construction.
In 2019, Daniel decided to take a big leap in his personal life when he proposed to Leanne. The culmination of their love story happened in March 2021 when they tied the knot, marking a new chapter in their journey together.
The Goal… To Reach 1000 Days of Buddymoon
Leanne and Dan have a pretty cool goal: they want to go on 1000 days of Buddymoon adventures! So far, they've tackled 463 of those days. Along the way, they've crashed in 89 different places and explored 15 amazing countries (As of September 2023). They're definitely on an epic journey!
The Buddymoon's Impact on Social Media
Leanne and Dan's journey as travel vloggers is nothing short of extraordinary. They've come a long way, from their roots in South Africa to becoming YouTube sensations.
Beyond YouTube, The Buddymoon shines on social media platforms like Instagram and Facebook. Their engagement with followers and their influence on the travel community are nothing short of inspiring.